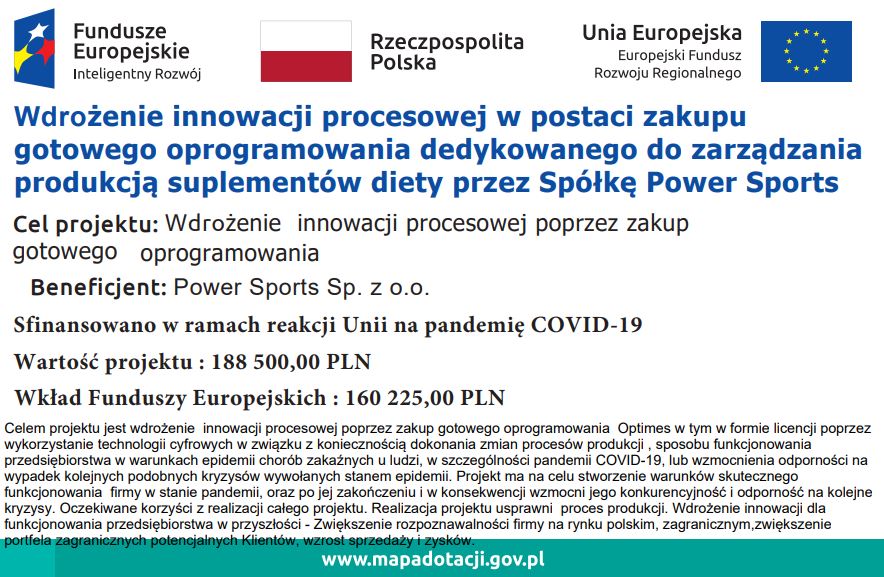  
SHOW TIME V3.0 360g
Tax included
Free for 4300 points
RECOMMENDED BY MARCIN RÓŻALSKI'S LEGEND OF COMBAT SPORTS!
A SOLID SHOT OF ENERGY WITHOUT AN EXCESSIVE MUSCLE PUMP
DOES NOT CONTAIN CREATINE
FORMULA ENRICHED WITH PLANT ADDITIVES

98% ZAMÓWIEŃ ZŁOŻONYCH DO 12:00 DOCIERA NA MIEJSCE NASTĘPNEGO DNIA ROBOCZEGO

WYSYŁKA OD 14 zł

DARMOWA DOSTAWA POWYŻEJ 200 PLN

ODBIÓR OSOBISTY - WARSZAWA MARYMONT

NA TERENIE UE WYSYŁKA OD 40 PLN

24 H DELIVERY IN POLAND

SHIPPING FROM 14 PLN

FREE SHIPPING PL OVER 200 PLN

STATIONARY SHOP - WARSZAWA MARYMONT
SHIPPING WITHIN EU 40 PLN+
UNTIL THE END OF THE WEEK PROMOTION ON ALL SUPPLEMENTS!
ENTER CODE BLACKWEEK
*PROMOTIONS DO NOT COMBINE
As of 05/04/2022, some of our products will be available without IHS logo capsules. If you have any doubts about the originality of a particular product, please contact our team.
The easiest way would be to send photos of the entire product to our email address or via social media. Based on the submitted materials, we will try to verify as soon as possible.
We apologize for the inconvenience. 
IHS Team
SHOW TIME 3.0 is already the third edition of this highly stimulating product. In 2012 SHOW TIME 1.0 was the first Polish legal product that, for some time, contained an extremely strong geranium extract. In SHOW TIME 2.0 we used dendrobium extract, while in SHOW TIME 3.0 the ingredients were selected to continue the reputation and popularity of SHOW TIME 1.0 The task of SHOW TIME 3.0 is to cause a strong ejection of noradrenaline by the adrenal cortex, all in order to start the "combat readiness" system as soon as possible. The consequence is a strong burst of noradrenaline, which causes the immediate involvement of the cardiovascular system and the lungs to provide oxygen to working muscles. Thanks to this, every physical effort will be characterized by maximum effectiveness in terms of absolute strength, condition and endurance.
By using SHOW TIME 3.0 temporarily you gain:
- increased strength, endurance and fitness in every type of sport
- extremely strong involvement of fat burning for energy needs of the body
- increased focus on the performed training effort
Specific References
ean13

5901703241385