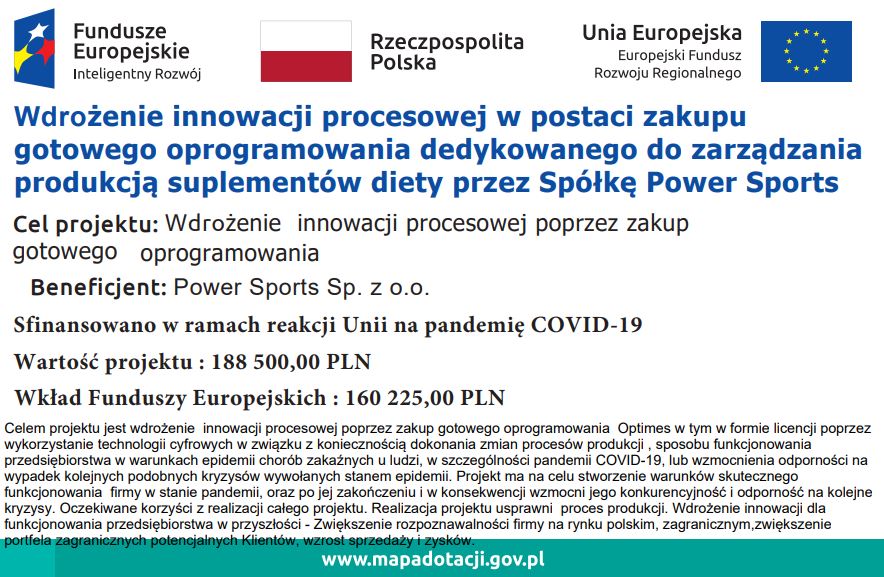  
Iron Rush 90 vege caps
Tax included
Free for 1500 points
Versatile complex of stimulants and herbs
Prolonged effect up to a maximum of 5 hours
Focus and concentration without feelings of restlessness and irritability 
Choose the concentration to suit your needs

98% ZAMÓWIEŃ ZŁOŻONYCH DO 12:00 DOCIERA NA MIEJSCE NASTĘPNEGO DNIA ROBOCZEGO

WYSYŁKA OD 14 zł

DARMOWA DOSTAWA POWYŻEJ 200 PLN

ODBIÓR OSOBISTY - WARSZAWA MARYMONT

NA TERENIE UE WYSYŁKA OD 40 PLN

24 H DELIVERY IN POLAND

SHIPPING FROM 14 PLN

FREE SHIPPING PL OVER 200 PLN

STATIONARY SHOP - WARSZAWA MARYMONT
SHIPPING WITHIN EU 40 PLN+
UNTIL THE END OF THE WEEK PROMOTION ON ALL SUPPLEMENTS!
ENTER CODE BLACKWEEK
*PROMOTIONS DO NOT COMBINE
As of 05/04/2022, some of our products will be available without IHS logo capsules. If you have any doubts about the originality of a particular product, please contact our team.
The easiest way would be to send photos of the entire product to our email address or via social media. Based on the submitted materials, we will try to verify as soon as possible.
We apologize for the inconvenience. 
IHS Team
If you're looking for an energizing product, which is so universal that it can work great both during exercise, in work and while studying - don't look any further. Our composition will find its use in all situations, in which focus, concentration and stimulation KEPT IN CHECK is beneficial and important for you. Tedious, but important job of choosing the right combinations and ingredients, is already behind us now.
Now it's your turn. Have a productive day!
Caffeine - is an organic chemical compound which naturally occurs in coffee, tea and yerba mate. It affects many tissues in the body, especially the central nervous system, so that it helps improve concentration, alertness, liveliness, general well being and it can significantly reduce feeling of fatigue. Caffeine increases the release of endorphins, dopamine and noradrenaline, improves decision - making process, enhances neuromuscular function, motor skills and reduces exertion-induced pain. Caffeine supplementation prompts the growth of power, strength, muscular endurance, improvement of speed and precision of moves and aerobic capacity.
Guarana extract - is obtained from fruit trees which naturally occur in Central and South America. Guarana has the property of stimulating the central nervous system due to its high caffeine content. It reduces feeling of fatigue, increases energy levels and improves your mood, concentration of attention, alertness and memory. It also helps with decision making, that's why it's especially needed during intense intellectual effort. Guarana may also help reduce body weight, suppress the feeling of hunger and reduce the risk of cancer.
Panax Ginseng root - it is a well known adaptogenic plant, which is indigenous to Asia. Using it can help improve well being, energy levels, cognitive functions and improve physical and mental fitness. Panax Ginseng root can also raise testosterone levels, increase libido and improve sexual functions in men. Supplementing with Panax Ginseng can decrease blood glucose levels and alleviate the symptoms of depression and menopause, support resistance and can calm nerves. 
L-theanine - it is an aminoacid that naturally appears in tea and inositol (Vitamin B8). This product can have a calming effect and can ease your nerves. Additionally, this product supports the remembering process and concentration, as well as encourages the reduction of blood pressure. Moreover, it supports the antioxidation processes and reduces the effect of free radicals. It works together with caffeine very well, and reduces its negative effects such as shivering hands, the feeling of anxiety etc.